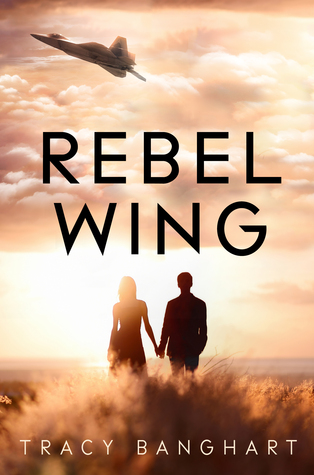 Rebel Wing (The Diatous Wars #1)
By Tracy Banghart
Published July 29th 2014 by Alloy Entertainment
Received Ebook from NetGalley
372 pages
"The Dominion of Atalanta is at war. But for eighteen-year-old Aris, the fighting is nothing more than a distant nightmare, something she watches on news vids from the safety of her idyllic seaside town. Then her boyfriend, Calix, is drafted into the Military, and the nightmare becomes a dangerous reality.
Left behind, Aris has nothing to fill her days. Even flying her wingjet—the thing she loves most, aside from Calix—feels meaningless without him by her side. So when she's recruited to be a pilot for an elite search-and-rescue unit, she leaps at the chance, hoping she'll be stationed near Calix. But there's a catch: She must disguise herself as a man named Aristos. There are no women in the Atalantan Military, and there never will be.
Aris gives up everything to find Calix: her home. Her family. Even her identity. But as the war rages on, Aris discovers she's fighting for much more than her relationship. With each injured person she rescues and each violent battle she survives, Aris is becoming a true soldier—and the best flyer in the Atalantan Military. She's determined to save her Dominion . . . or die trying." ~ Goodreads
Review
Rebel Wing may initially feel like a "been there done that" sort of book, but in truth it is well written and highlights the importance of finding one's identity and independence.
Aris has guts. Posing as a man is one thing, but transforming into a solider is another. The training described is hard - especially for her in her weakened state. It impressed me how this girl who had been treated as a broken doll pushes herself to do the incredible. Her personal growth is astounding. By the end of the book she becomes an independent woman. It is refreshing how the romance doesn't overwhelm the book. Yes, it is the inciting force for her to join the Military, but that changes. She comes to realize the bigger picture and how she can make a difference. The rest of the characters were varied and fulfilled their respective roles (friend, commander, potential love interest, etc.)

The dystopian world is described very well, namely the sectors and dominions. The biggest indicator that it is futuristic is the technology, but I appreciated that it is not far fetched. Rebel Wing is engaging and keeps a steady pace. The chapters alternate between two seemingly parallel stories, which proved to be intriguing. One was Aris' story and the other showed what was going on politically. It definitely enhanced the whole experience.

I highly recommend readers to give Rebel Wing a chance, especially those who look for a strong female lead. You may be surprised.
Excerpt
High above the olive groves and blinding white roofs of the village, Aris danced. She twisted and dove, guiding her wingjet straight out over granite cliffs and the glitter of the ocean. As she did, she imagined its wings were her arms, reaching far out into the blue. Her fingers would knife through a wisp of cloud, and the moisture would linger against her skin, like a kiss. Most everyone here could fly. But no one flew like Aris did.