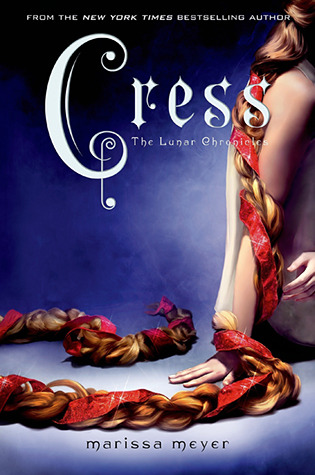 Cress (The Lunar Chronicles #3)
By Marissa Meyer
Published February 4th 2014 by Feiwel & Friends
Borrowed from Local Library
550 pages
"Cinder and Captain Thorne are fugitives on the run, now with Scarlet and Wolf in tow. Together, they're plotting to overthrow Queen Levana and her army.
Their best hope lies with Cress, a girl imprisoned on a satellite since childhood who's only ever had her netscreens as company. All that screen time has made Cress an excellent hacker. Unfortunately, she's just received orders from Levana to track down Cinder and her handsome accomplice.
When a daring rescue of Cress goes awry, the group is separated. Cress finally has her freedom, but it comes at a high price. Meanwhile, Queen Levana will let nothing prevent her marriage to Emperor Kai. Cress, Scarlet, and Cinder may not have signed up to save the world, but they may be the only hope the world has." ~ Goodreads
Review
The third instalment of the Lunar Chronicles packs a punch with the addition of new characters and a thickening plot!
I admire Cinder and Scarlet's tough personality, but it was a nice change to meet Cress. I personally relate to her. She's socially awkward, lacks self confidence, and is a hopeless romantic. I feel like she's an underdog and I always love rooting for the underdog. Then, there is Thorne. I've never met a character quite like him before. His statements are blunt, yet charming. He is not one you would think of as funny, yet he had me laughing more than once. His, well, special, situation in Cress made for quite the bit of entertainment. Together, Cress and Thorne made such a cute duo. It was awkward at times, but my heart melted at the subtle things, like how they both relied on each other. I hope their relationship is taken farther!

Again and again, Marissa Meyer flaunts her writing abilities. It's amazing to see how everything is coming together, all the details she left behind in the previous books and I can assure you the fast pace continues. The multiple POV's has always been a trademark of sorts and I've always appreciated them. It gives immense insight in to what is really going on. However, at times I am so curious to see what happens with one character that I have to restrain myself from flipping ahead. This was the case with Cress and Thorne.

I highly recommend the whole series to readers who search for adventure, action, romance (like three couples worth), dystopian settings, and of course that hint of fairytale retelling!
Excerpt
Though they were separated by two screens and vast amounts of empty space, she could feel the link being forged between them in that look. A bond that couldn't be broken. Their eyes met for the first time, and by the look of pure amazement on his face, she knew he felt it too.
Heat crept up into her cheeks. Her hands began to shake.
"Aces," Carswell Thorne murmured. Dropping his feet to the ground, he leaned forward to inspect her closer. "Is that all hair?"
The bond snapped, the fantasy of one perfect true-love moment disintegrating around her.
Book Trailer