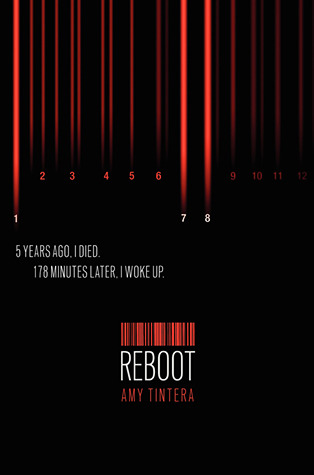 Reboot (Reboot #1)
By Amy Tintera
Published May 7th 2013 by HarperTeen
Borrowed from Local Library
365 pages
"Five years ago, Wren Connolly was shot three times in the chest. After 178 minutes she came back as a Reboot: stronger, faster, able to heal, and less emotional. The longer Reboots are dead, the less human they are when they return. Wren 178 is the deadliest Reboot in the Republic of Texas. Now seventeen years old, she serves as a soldier for HARC (Human Advancement and Repopulation Corporation).
Wren's favorite part of the job is training new Reboots, but her latest newbie is the worst she's ever seen. As a 22, Callum Reyes is practically human. His reflexes are too slow, he's always asking questions, and his ever-present smile is freaking her out. Yet there's something about him she can't ignore. When Callum refuses to follow an order, Wren is given one last chance to get him in line—or she'll have to eliminate him. Wren has never disobeyed before and knows if she does, she'll be eliminated, too. But she has also never felt as alive as she does around Callum.
The perfect soldier is done taking orders" ~ Goodreads
Review
Equipped with an original premise and a fast moving plot, Reboot will surprise and please.
Having the highest number in the Reboot community, Wren Connolly is not one to be messed with. Although I respected Wren and admired her skill, I found I wasn't able to connect with her. A disappointing feeling considering she was the heroine. Even when she regained her emotions (or developed them?), her personality didn't have enough for me. I love my heroines to have sassiness, sarcasm, snark - you know, firecrackers. After Callum enters the picture, she of course begins questioning her orders and starts to fall for him. As much as he was a sweetheart, Callum was missing something for me, too. His character fell flat and as harsh as this may sound, I just found him to be a bit of a pansy. However, it was refreshing to see the typical roles reversed (girl - protector, boy - protected), but it was also frustrating. I couldn't fall for him the way Wren did. Their relationship, although lacking depth, was cute.
Reboot has a most intriguing plot. I must give it a round of applause in that area. It was new to me, fresh, and exciting. At first the dystopian world was a bit blurry, but it cleared up enough. Immersion into Wren's world didn't happen, but the steady stream of events kept my attention extremely well. The ending promises more books to come and I may have to watch out for them.
I highly suggest Reboot for those who like strong heroines, unique premises, and action. It may not have hit my sweet spot, but it is a one of a kind book that you should give a chance!
Excerpt
"She's supposed to make them good Reboots," I said, the memory of pulling the knife out of Forty-five's head flashing through my mind.
"Then maybe you should do it," Twenty-two said, perking up. "You get to pick, don't you?"
"Yes. And I don't train such low numbers."
"Because they're no good."
"Maybe because they don't have you."
"One-seventy-eight," Manny said.
I turned my gaze to One-twenty-one, who nodded at me. He already knew I would choose him.
I looked at Twenty-two. How long did he have with Lissy? They'd be out in the field in a couple weeks, and with Lissy's track record, he'd be dead within two months.
His dark eyes held mine. Not many people looked me in the eye.
And that smile. That smile was strange here. Newbies didn't come in smiling; they came in terrified and miserable.
"One-seventy-eight?" Manny repeated, looking at me expectantly.
"Twenty-two." It was out of my mouth before I could change my mind. A grin spread across his face.
Book Trailer