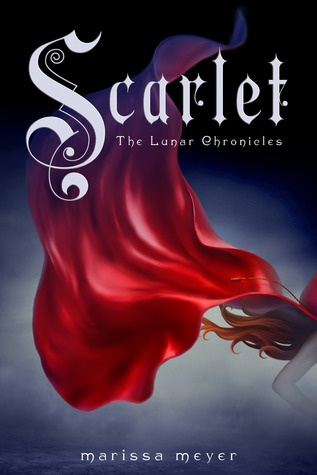 Scarlet (The Lunar Chronicles #2)
By Marissa Meyer
Published February 5th 2013 by Feiwel and Friends
Borrowed from Local Library
452 pages
"Cinder, the cyborg mechanic, returns in the second thrilling installment of the bestselling Lunar Chronicles. She's trying to break out of prison--even though if she succeeds, she'll be the Commonwealth's most wanted fugitive. Halfway around the world, Scarlet Benoit's grandmother is missing. It turns out there are many things Scarlet doesn't know about her grandmother or the grave danger she has lived in her whole life. When Scarlet encounters Wolf, a street fighter who may have information as to her grandmother's whereabouts, she is loath to trust this stranger, but is inexplicably drawn to him, and he to her. As Scarlet and Wolf unravel one mystery, they encounter another when they meet Cinder. Now, all of them must stay one step ahead of the vicious Lunar Queen Levana, who will do anything for the handsome Prince Kai to become her husband, her king, her prisoner." ~ Goodreads
Review

Equipped with an intricate plot and interesting characters, Scarlet is sure to hold your attention!

Chapters alternate between Cinder, Scarlet, Kai, and even Queen Levana. Scarlet is fierce and determined, qualities I admire in a heroine. Her travelling companion Wolf was a puzzle and as his personality and background pieces came together it gave me quite a shock! Cinder was as sassy as usual and her travelling companion provided almost comic relief. When all these characters met and their adventures collided it was pure awesomeness.

Meyer strikes a wonderful balance between originality and her chosen fairytale. She ties select characterstics from the tale, but puts her own twist on them. The creativeness shines through. A quality made even more evident as the series continues. The beginning and even middle felt a bit slow to me, however, the last quarter was very intense! The world that Meyer has created is like a web and we've only traveled through half of it.
I recommend Scarlet to readers who enjoy action, suspense, and creative plots. I'm anxious to see what happens next!
-
Excerpt
"What's your name, anyway?"
That awkward shrug again. "They call me Wolf at the fights."
"Wolf? How... predatory."
He nodded, entirely serious.
Scarlet swallowed a grin. "You might want to leave the street fighter bit off your resume."
He scratched at his elbow, where the strange tattoo could barely be seen in the dark, and she thought she'd maybe embarrassed him. Perhaps Wolf was a beloved nickname.
"Well, my name is Scarlet. Yes, like the hair, what a clever observation."
His expression softened. "What hair."
Scarlet settled her arm on the top of the door, resting her chin. "Good one. "
For a moment he seemed almost pleased with himself and Scarlet found herself warming to this stranger, this anomaly. This soft-spoken street fighter.
Book Trailer