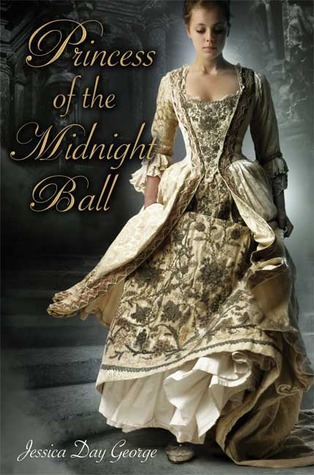 Princess of the Midnight Ball (Princess #1)
By Jessica Day George
Published January 20th 2009 by Bloomsbury USA Childrens
Borrowed from Local Library
280 pages
"Galen is a young soldier returning from war; Rose is one of twelve princesses condemned to dance each night for the King Under Stone. Together Galen and Rose will search for a way to break the curse that forces the princesses to dance at the midnight balls. All they need is one invisibility cloak, a black wool chain knit with enchanted silver needles, and that most critical ingredient of all—true love—to conquer their foes in the dark halls below. But malevolent forces are working against them above ground as well, and as cruel as the King Under Stone has seemed, his wrath is mere irritation compared to the evil that awaits Galen and Rose in the brighter world above." ~ Goodreads
Review
There is no doubt that Jessica Day George knows how to put her own spin on a classic. She accomplishes it in such a way that you at times forget she based it on a Grimm tale!
I remember reading the story of The Twelve Dancing Princesses many times in my old worn-out fairytale book when I was young. It was delightful to see how Princess of the Midnight Ball took the main ideas of the original and fleshed it out. I couldn't quite forge a deep connection with the characters because of the way it was written. However, they are very amiable and I did care for them. Galen was not brooding or arrogant, he was humble and kind. He had manners, wasn't ashamed of his skill at knitting, and yet he was not in the slightest a pansy. Instead, he was the perfect hero - one the girls needed. The princesses were a bit hard to keep track of, but I enjoyed how they acted like typical sisters. Rose was obviously my favourite. She was family oriented and did not stick her head in the sand regarding their situation. When the time came, she was prepared to do something. As for the rest of the characters they each were given personalities that fit.
I wouldn't call Princess of the Midnight Ball fast paced, but it was engaging. Events flowed nicely together and as expected things turn out in a way that will curl your toes in contentment (I hope that isn't a spoiler). It is a fairytale retelling after all. Again, the spin that is used (namely, the curse the girls are under) makes so much sense and provides a strong basis for the rest of the story. I loved how pieces of the original tale would pop up in between the expanded portions of the book. Very cleverly executed!
I highly recommend Princess of the Midnight Ball to readers who enjoy Grimm tale retellings, fairytales, princesses, princes, originality, and of course sweet heros. A quick pleasure read at its finest!
Excerpt
"Allow me to give you this orange, Your Highness, along with my wishes for a swift recovery."
"That's very generous of you, Master Galen," she replied, a faint light kindling in her eyes, "especially since they are my family's oranges." She took it from him, rolling it between her palms. "And considering that my illness is most likely a result of falling into the fountain the day we met."
Galen winced. He had known she would remember that, but he had hoped she wouldn't hold it against him. Although, judging by the faint smile on her pale lips, she didn't mean it in earnest.
"Well, Your Highness, I know that I am indeed handsome, but I can hardly be blamed if my good looks overcame you so strongly that you fainted," he said, striking a pose. He had butterflies in his stomach, wondering if he was taking the teasing to far.
But he was rewarded: Rose laughed, a high, clear sound, and lobbed the orange at him.