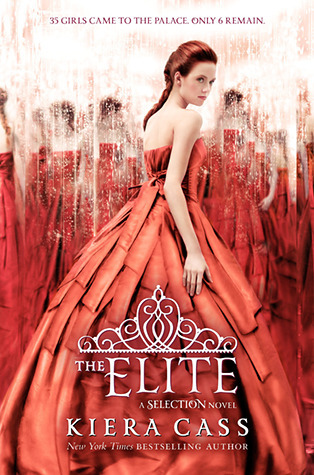 The Elite (The Selection #2)
By Kiera Cass
Published April 23rd 2013 by HarperTeen
Borrowed from Local Library
336 pages
"The Selection began with thirty-five girls. Now with the group narrowed down to the six Elite, the competition to win Prince Maxon's heart is fiercer than ever—and America is still struggling to decide where her heart truly lies. Is it with Maxon, who could make her life a fairy tale? Or with her first love, Aspen? America is desperate for more time. But the rest of the Elite know exactly what they want—and America's chance to choose is about to slip away." ~

Goodreads
Review
Sadly a mouth drooling cover can be misleading. The Elite has a firm footing in its plot, but the characterization of the main characters was insufferable.
Many have loved this book to pieces, others want to shred it to pieces. I'm in the middle. America as well as her two love interests had me doing serious eye rolling. No joke, I think I sprained my eyes. America was so indecisive and immature it was sickening at times. As soon as one guy did something wrong or wasn't showing her enough affection, she ran to the other and was all like: okay, I'm going to be with this one. Then, her feelings would shift again. Gah! Both Maxon and Aspen are pining away, letting her walk all over their hearts. Poor fellows. They both deserve a girl who can be loyal to them. America does have redeeming qualities which made my feelings towards her so conflicted. One minute I couldn't stand her and the next minute I was cheering her on. Her compassion towards others was endearing and I'll be the first to say she has guts. I liked the complicated nature that surrounds the other girls. Their characterization was done extremely well.
The plot itself was solid. Without the political situations popping up in between I would have become bored, though. So appreciative of those scenes as well as the projects the girls had to do. That was entertaining. The history of the world America lives in was explored, which I really enjoyed. It added substance to all those wishy-washy thoughts America had. The pace was good, it picked up during the rebel attacks - I was flipping pages faster. It seemed like America had made a decision on what she wanted to do at the end of the book. For that I was grateful.
I would recommend this book to readers who don't mind indecisive characters, enjoy romance, and appreciate beautiful covers. Even though I can't stand America most of the time, I do want to see what comes out of all of this!
Excerpt
"Do you know when the last time was that I really looked at the stars?" he asked.
I settled closer to him on our blanket, trying to keep warm in the cool Angeles night. "No idea."
"A tutor had me studying astronomy a few years ago. If you look closely, you can tell that the stars are actually different colors."
"Wait, the last time you looked at the stars was to study them? What about for fun?"
He chuckled. "Fun. I'll have to pencil in some between the budget consultations and infrastructure committee meetings. Oh, and war strategizing, which, by the way, I am terrible at."
"What else are you terrible at?" I asked.
"Why would you want to know that?" he asked in mock irritation.
"Because I still know so little about you. And you seem perfect all the time. It's nice to have proof you're not."
He propped himself up on an elbow, focusing on my face. "You know I'm not."