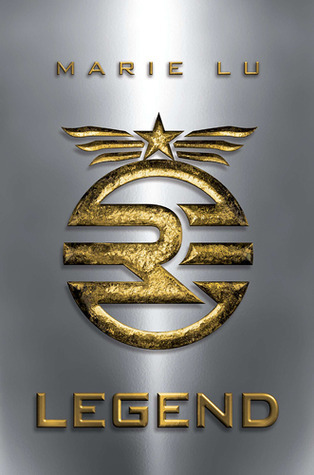 Legend (Legend #1)
By Marie Lu
Published November 29th 2011 by Putnam Juvenile
Borrowed from Local Library
305 pages
"What was once the western United States is now home to the Republic, a nation perpetually at war with its neighbours. Born into an elite family in one of the Republic's wealthiest districts, fifteen-year-old June is a prodigy being groomed for success in the Republic's highest military circles. Born into the slums, fifteen-year-old Day is the country's most wanted criminal. But his motives may not be as malicious as they seem.
From very different worlds, June and Day have no reason to cross paths - until the day June's brother, Metias, is murdered and Day becomes the prime suspect. Caught in the ultimate game of cat and mouse, Day is in a race for his family's survival, while June seeks to avenge Metias's death. But in a shocking turn of events, the two uncover the truth of what has really brought them together, and the sinister lengths their country will go to keep its secrets." ~ Goodreads
Review
Filled with determined, sharp minded characters and plenty of action to go around, Legend will be the cause of those piled up dishes and overflowing hampers.
At the beginning we get to experience two extremes of Lu's dystopian society, namely the elite's lifestyle and the slum's lifestyle through alternating POVs. June lives a very privileged life and over time realizes the flaws in her world. It was great that she wasn't blinded by what she was taught from a young age and had the maturity to properly questions things. It was apparent from the start that June's a genius - she sees every detail and makes conclusions based upon the information she gathers. I had great respect for her. As for Day, he is the male version of June - ability wise. Very intuitive and clever, his character is like an onion (giggle). He has many layers to him. Both June and Day were amiable (Day more so) and easy to root for, but I must say they came off as much older. I kept on picturing them at like eighteen, not fifteen. I would also like to note the relationship between June and Metias. It was so wonderfully sweet and well portrayed I was completely heartbroken for June! Actually, instead of centering the plot on romance, Lu decided to focus more on each one's family. That was very refreshing!
The beginning was a little slow for me but it picked up quickly. It progressed at an excellent pace, always holding my attention. The Republic was explained adequately and the issues beneath the surface were interesting to uncover. Going in directions I wasn't anticipating. Questions were answered and situations were wrapped up, yet it was easy to see there is a lot of adventure still in store for Day and June. Everything is set up nicely for book two!
I highly recommend Legend to dystopian lovers who enjoy dynamic characters, a family oriented plot, slight romance and of course action. It was a solid dystopian and I can't wait to read the next one!
Excerpt
"When you stand out there," John continues in a hoarse voice, "keep your chin up, all right? Don't let them get to you."
"Make them work for it. Punch someone if you have to."
John gives me a sad, crooked smile. "You're a scary kid. So scare them. Okay? All the way until the end."
For the first time in a long time, I feel like a little brother. I have to swallow hard to keep my eyes dry. "Okay," I whisper.